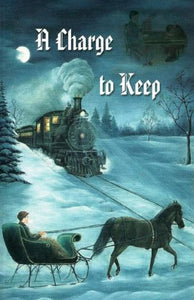 Reuben Watson Stone is a fourteen-year-old boy who lives in a New York city with his mother and younger sister Elizabeth (Beth). The family is poor because Reuben's father has been dead for some time, and Reuben doesn't go to school because, as the man of the house, he must go out each day to look for odd jobs so that he might earn enough money to get food, buy coal, and pay the rent. One night, he rescues a young drunken man named Edward Harrison who "rewards" him by offering him a job at St. Mark's Saloon, but Reuben refuses because he has seen first-hand the effects of drink in his encounter with Edward. His mother wonders if he shouldn't go ahead and take the job, but his decision is encouraged by their new neighbor, Miss Priscilla Hunter, who tells him that her father, brother, and a friend all died as a result of liquor.
However, through Edward, Reuben meets a visiting businessman named Mr. Barrows who, taking a liking to the young boy for his strong moral convictions and honesty, invites Reuben to come home with him and work at his small-town box factory in a rural area at some distance from the city. Arrangements are even made for Mrs. Stone, Beth, and Miss Hunter to move and get work with Mr. Barrow as well. However, the enemy lays many snares for Reuben. There are townspeople who think that Mr. Barrow should hire local boys instead of bringing a stranger in. There are other boys in the factory who tease and tempt Reuben. Then Reuben is unjustly accused of laming Mr. Barrows's horse and not telling anyone about it. And all during this time, Reuben is trying to make up his mind whether to give his life to Christ or not. What will happen to Reuben? And will he decide to trust in Jesus or not?
Author Isabella Macdonald Alden (1841-1930) was born to Isaac and Myra Spafford Macdonald, of Rochester, NY. Given the nickname "Pansy" as a child, she often wrote under that pseudonym, even editing a juvenile magazine named The Pansy. After being homeschooled by her father, she married a minister named Gustavus Rossenberg Alden and wrote around 100 books, mostly didactic fiction. I picked this one up when visiting in Pennsylvania and in doing some research on it couldn't find it at first in a listing of Mrs. Alden's books. However, I later learned that it was originally published under the title The Man of the House. Some people may feel that stories like this are hopelessly outdated and completely irrelevant for today's children. However, many of Mrs. Alden's books are being republished for parents who want reading material for their families which is based on traditional Judaeo-Christian values rather than much of the pathetic drivel which passes for modern children's literature.