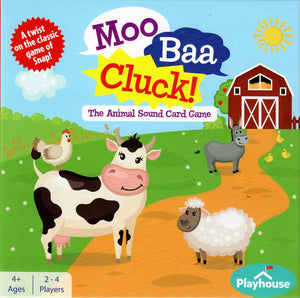 It's a Barnyard Bonanza in this hilarious twist on the classic game of Snap.  Players compete to be the first to spot a pair and make the farm animal sound before their opponent.  You'll be Mooing, Baaing, Clucking and Laughing your way to the end.  Be the first to collect all of the cards and you win!
More Ways to Play Inside
Individual game boards for each player
Contains: 4 Barn Game Boards, 1 Holding Pen Game Board, Deck of 52 Cards, Instructions.